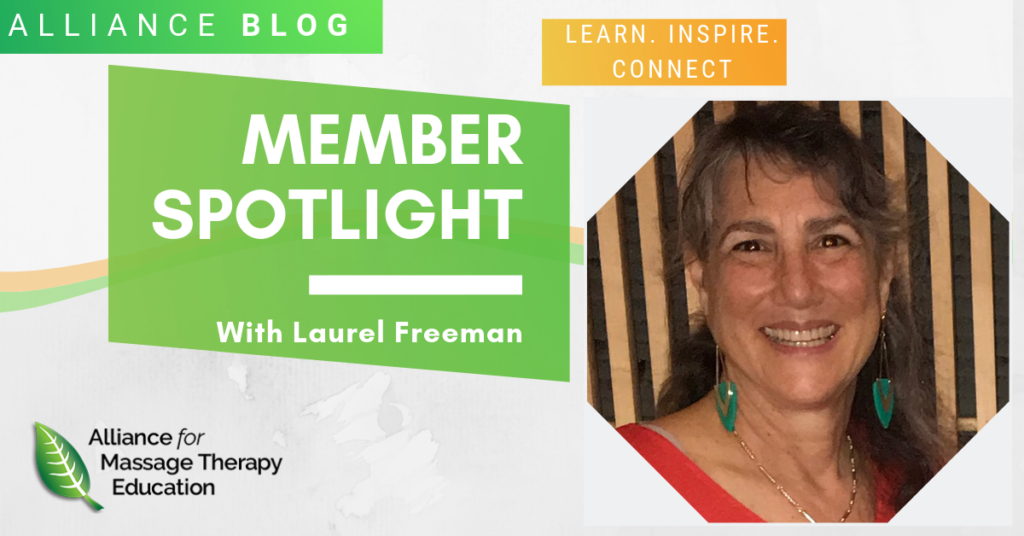 Membership Spotlight: The Bigger Picture by Laurel Freeman
In 1987 cell phones were around but not very available, computers were starting to be used in businesses and emails were just starting to happen. Life as we know it was very different; however, there are some things that do not change like honor, ethics, professionalism and education. That was the year I became a Licensed Massage Therapist in the State of Florida.
Upon receiving my license, I immediately joined two professional organizations that supported the massage profession, and in 1992 I joined another professional organization. In 2010 AFMTE was conceived and I joined.
One may ask, "Why do you belong to all these organizations?"
As a professional massage therapist and creator of a massage technique, I believe each of us has the responsibility to support organizations that support us.
Supporting means valuing the importance of our massage profession.
AMFTE supports diversity – the schools, the educators, the continuing education providers, the allied members or companies that support the massage profession and the supporting members or individuals who support the work of the Alliance, such as students.
The Alliance has an important role in bridging gaps that might be overlooked and aligning the importance of each component while striving to promote the massage profession.

---
Bio: Laurel J. Freeman, B.A., LMT has been active in many professional organizations and is an educator, who lectures and teaches to many different groups and organizations throughout the country. Some of her topics include: company & style management; stress management; death and living; exercise and stretching; juggling as a life skill; and RNR™ a massage technique she created. Laurel believes people have a choice to live pain free. Her work in massage therapy helps many people re-claim their life. Laurel's philosophy toward life is "Wellness is a key for being happy."

Copyright © 2019 Laurel J. Freeman, B.A., LMT – used with permission.