How to Get Involved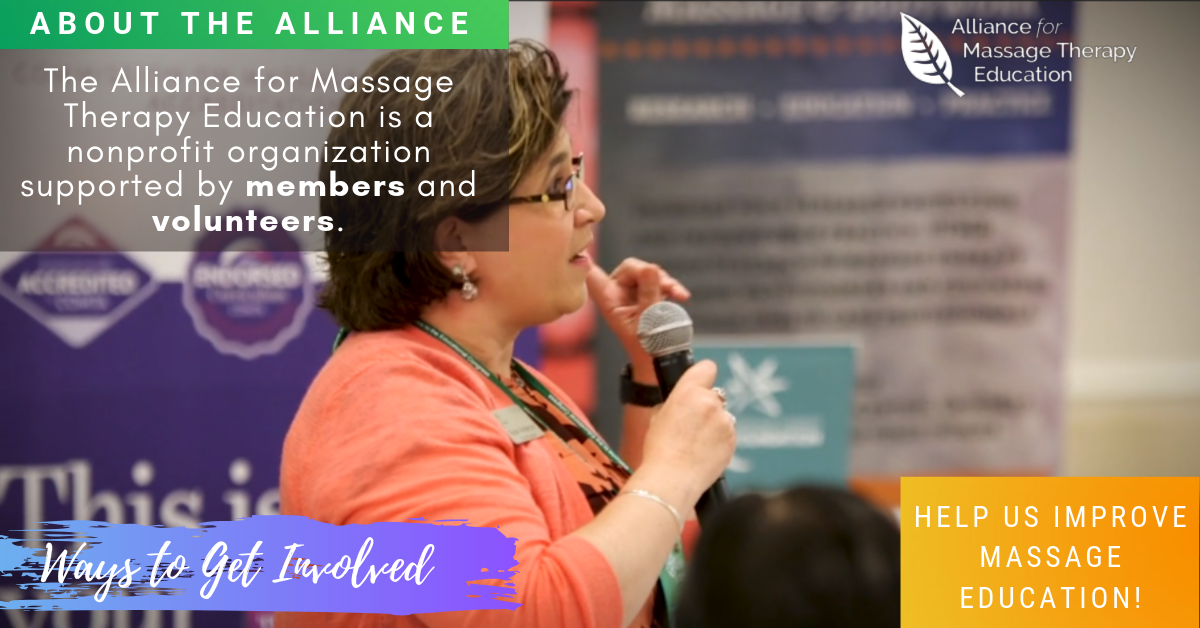 ---
We invite you to get involved in the AFMTE. Many people involved in creating a culture of excellence in Massage Therapy and Bodywork Education are looking for the best ways to donate their time and to help to re-shape and guide Massage Therapy and Bodywork. Here is your opportunity to let your voice be heard and be an active part in creating a culture of excellence! The Alliance offers 4 ways for you to be a part taking massage and bodywork education to the next level:
United, we can all make a difference. United, we have a strong voice, and united is how we will create a culture of excellence in Massage Therapy and Bodywork Education together!
Who Can Serve?
The Board of Directors is the Alliance's policy making body. According to the Bylaws, the nine-member Board is comprised of two Directors each from the School, CE Provider and Teacher membership categories, plus three Directors-at-Large. Board members are elected for a two-year term and can serve consecutive terms.
The Leadership Development Committee is comprised of 5 members elected by the membership. The LDC works to cultivate and recruit committee members and serves as the nomination committee by recruiting, interviewing, and recommending a slate of candidates to serve as Board Members.
Apply to serve as Committee Chair – According to the Alliance Bylaws, members and chairs of committees shall be appointed annually by the President, with the approval of the Board. Currently any member is eligible to serve as chairs;
Join a Committee- Any member at any level can serve as committee members.
To view a complete list of committees and descriptions visit the AFMTE Committee page.
A list of applications is below for Board Candidacy, Committee Chair or Committee Member so you can select the area for which you would like to be considered for the team.

How Do I Get Involved?