Are you the next AFMTE, Biofreeze, Bon Vital' Educator of the Year?
The Alliance for Massage Therapy Education announced that we are now accepting applications for our 2019 Educators of the Year Awards.
The Alliance published the  NTESP Core Competencies for Massage Therapy Teachers in 2013. This document includes ten standards, each of which describe the knowledge, skills and attitudes that form the basis for effective and successful teaching.
As part of this, the AFMTE, Biofreeze and Bon Vital' established the Educators of the Year Award.
One award recognizes a teacher in a massage/bodywork therapy school setting and one recognizes a continuing education provider. This award honors excellence in massage and bodywork education and serves to foster a culture that supports raising the standards of excellence in massage and bodywork education. The recipients are chosen based on their experience, teacher training taken, and how well they meet the core competency standards.
Each nominee is required to complete an application (available below) and return it on or before April 15, 2019.  Educators can directly apply or be nominated by a colleague. Winners will be announced and contacted directly on June 1, 2019.
Winners will also be invited to and recognized at the 2019 Educational Congress in Philadelphia in July 2019. See more information about the 2019 event here.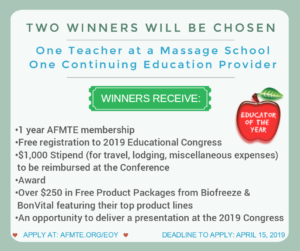 You may apply or nominate someone else.
All applicants may refer to our NTESP Core Competencies documents here.
The AFMTE encourages those to view previous winners to their website: https://www.afmte.org/education/educator-year/
Thank you to the sponsors of this award!/h2> Educator of the Year Awards Sponsor Performance Health
Pain Relieving products have been sold internationally for over 10 years. and Biofreeze can be found in more than 50 countries and in 26 different languages. Biofreeze is the original Cold Therapy product available in gel, roll-on and spray providing temporary pain relief for millions worldwide from everyday muscle and joint pain caused by arthritis and today's active lifestyles.