2019
AFMTE, Biofreeze & Bon Vital'
Educator of the Year Recipients Announced
The Alliance for Massage Therapy Education, Biofreeze, and BonVital' are excited to announce the 2019 Educator of the Year Award Recipients—one teacher in a school setting and one continuing education provider.
This award honors excellence in therapeutic massage and bodywork education, and serves to foster a culture that supports raising the standards of excellence in massage therapy and bodywork education.
The recipients were chosen based on their experience, teacher training, and how well they meet the Core Competencies standards that the AFMTE published in 2013. The Core Competencies document includes ten standards, each of which describe the knowledge, skills, and attitudes which form the basis for effective and successful teaching.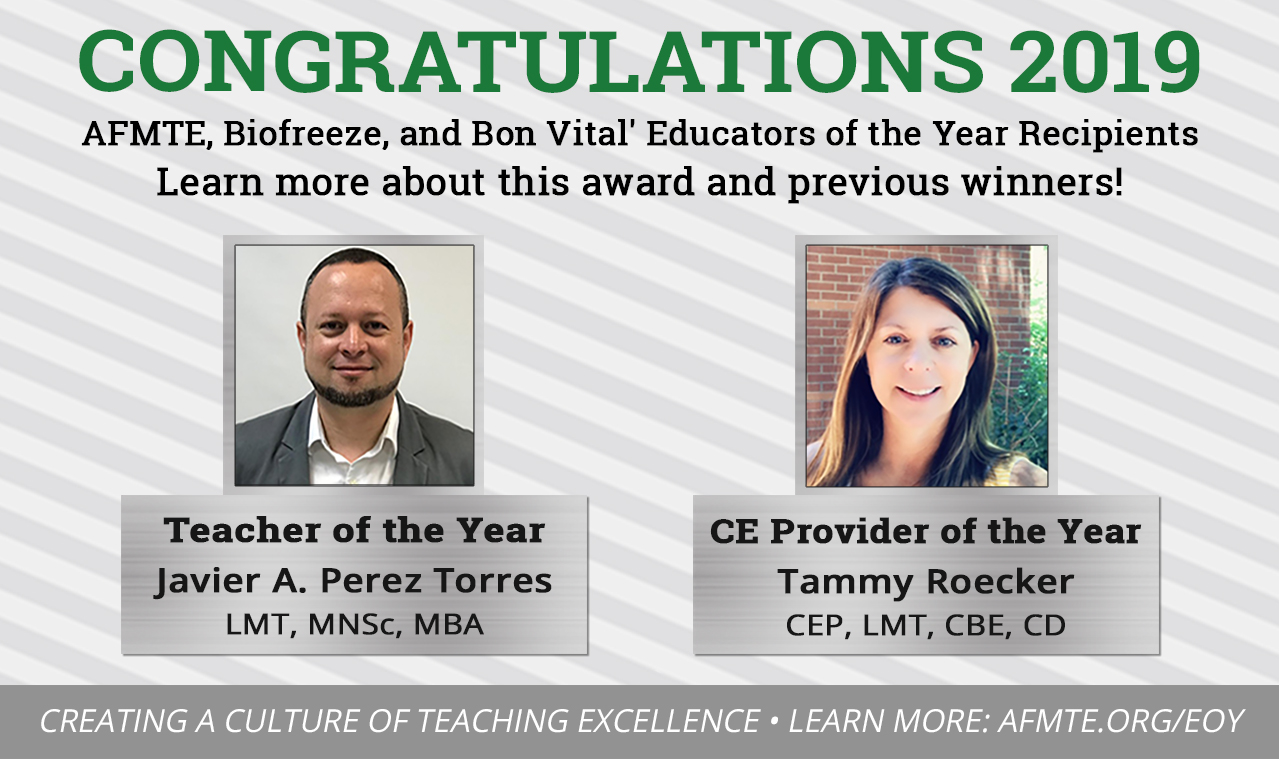 Meet Your Educator of the Year, CE Provider Category: Tammy Roecker
Tammy Roecker, CEP, BCTMB, has been a self-employed, Arizona State Licensed Massage Therapist, Board Certified in Therapeutic Massage and Bodywork, and active member of the American Massage Therapy Association for 26 years with additional certifications in Pre/Peri-Natal Massage, as well as being a Certified Personal Trainer with extra training in Perinatal Fitness.
Tammy also provides services as a Certified Birth Doula and Childbirth Educator. She has attended and supported over a hundred women and their partners through labor and birth and prepared them prior with natural childbirth classes.
Tammy Founded the Early Bonding Foundation, a non-profit 501c3 Corporation, and TR Seminars, as a provider of continuing education for Licensed Massage Therapists, RNs, OTs, PTs, LCSWs, and other Healthcare Professionals. She has been providing continuing education since 2011 and currently has 52 CE classes with a wide variety of subjects from pediatrics to geriatrics.
Statement
"I am so grateful and humbled to be receiving this award, to be associated with the AFMTE, and to share in their endeavor to strengthen and improve the massage therapy industry. The opportunities that now exist because of them, are incredible for people who want to teach. I am so happy there is finally an educational credentialing system for qualified educators. Nothing like this existed when I started! We now have this motivational, supportive community, promoting and honoring educators, helping us to continually learn, grow and change! All their efforts are not only helping to strengthen our educators, but also increases the respect for our industry."
Meet Your Educator of the Year, Teacher Category: Javier Perez Torres
Javier A. Perez Torres, LMT, MNSc, MBA, is an educator, naturopath, external funding and grant proposal writer for UAGM, and current student of Zen Shiatsu at Zen Shiatsu Caribbean Institute in Puerto Rico, with over 17 years of experience in massage therapy and healing therapies, his passion is learning oriental therapies and massage techniques for special populations.
He has served as an evaluator of the associates degree massage therapy programs submitted at the Department of Education of Puerto Rico, as an item writer for the FSMTB, served 11 years as an academic coordinator for the massage therapy program at Columbia Central University, and review curriculums for massage therapy schools and universities at Puerto Rico. For five years he served as SPA Manager for hotels at the south of the island. He took the Hospital Based Massage Therapy Course at Mayo Clinic in 2017 and since then he gives massage for people in hospice and hospitals in the island.
Statement
"Massage therapy is just a branch of the tree of life. Every discipline is a flower. Every practitioner is a seed. Family is the root of that tree, but education is the trunk of that tree. Education is important in all aspects. For me, massage therapy changes my life every day, but is education that gives meaning to it. Knowing that I was chosen for this award is the highest honor I could ever receive. Thanks to the AFMTE and those who makes this possible, and for your contribution in forging a stronger massage therapy community for all educators."
Each Winner Receives
1-year Membership (CE Provider or Teacher) in the AFMTE
1 free registration to the 2019 AFMTE Conference
Award
$1,000 Stipend (for travel, lodging, and miscellaneous expenses) to be reimbursed at the conference
Over $250 in FREE Products packages Biofreeze and BonVital'
Meet the winners in person at the 2019 Educational Congress
If you have questions please email [email protected]
Join us at the 2019 Educational Congress in Philadelphia this July to meet the Educator of the Year Award recipients!
---