CE Courses – A comprehensive directory of therapeutic massage and bodywork continuing education and advanced training opportunities from educators and institutions committed to offering courses meeting a range of professional development needs. These listings are from Alliance for Massage Therapy Education CE Providers, Schools, and Allied Members.
Online Education – A variety of sources for online massage therapy education courses specifically developed for career schools and colleges, including Maxx Knowledge, ABMP Workshops and the NEW AFMTE Education Resource Database. This Database offers a variety of online courses that support the 10 Standards of the NTESP Core Competencies.
NTESP Core Competencies – Central to the mission of the Alliance is the commitment to strengthen and improve the quality of therapeutic massage and bodywork education and create a culture of teaching excellence in our field through a comprehensive effort called the Teacher Education Standards Project (NTESP). The initial phase of the project involves developing and implementing competency standards for teachers applicable across the continuum of entry-level, continuing massage education and advanced training programs. Update April 2019: We are now in Phase 4 of this Project. For more details on the Educator Certification Program click here.
MTBOK – Massage therapy training programs will benefit from the Alliance's extensive review and analysis version one of the Massage Therapy Body Of Knowledge. After receiving excellent feedback from the leaders in the field, our work is now being used by the ELAP working group.
ELAP – The Entry-Level Analysis Project (ELAP) is a research project initiated by the Coalition of National Massage Therapy Organizations in March 2012. The project goals were to define knowledge and skill components of entry-level education and recommend the minimum number of hours schools should teach to prepare graduates for safe and competent practice in the massage profession. Completed in December of 2013, the project published two documents, which describes ELAP work group findings and recommendations.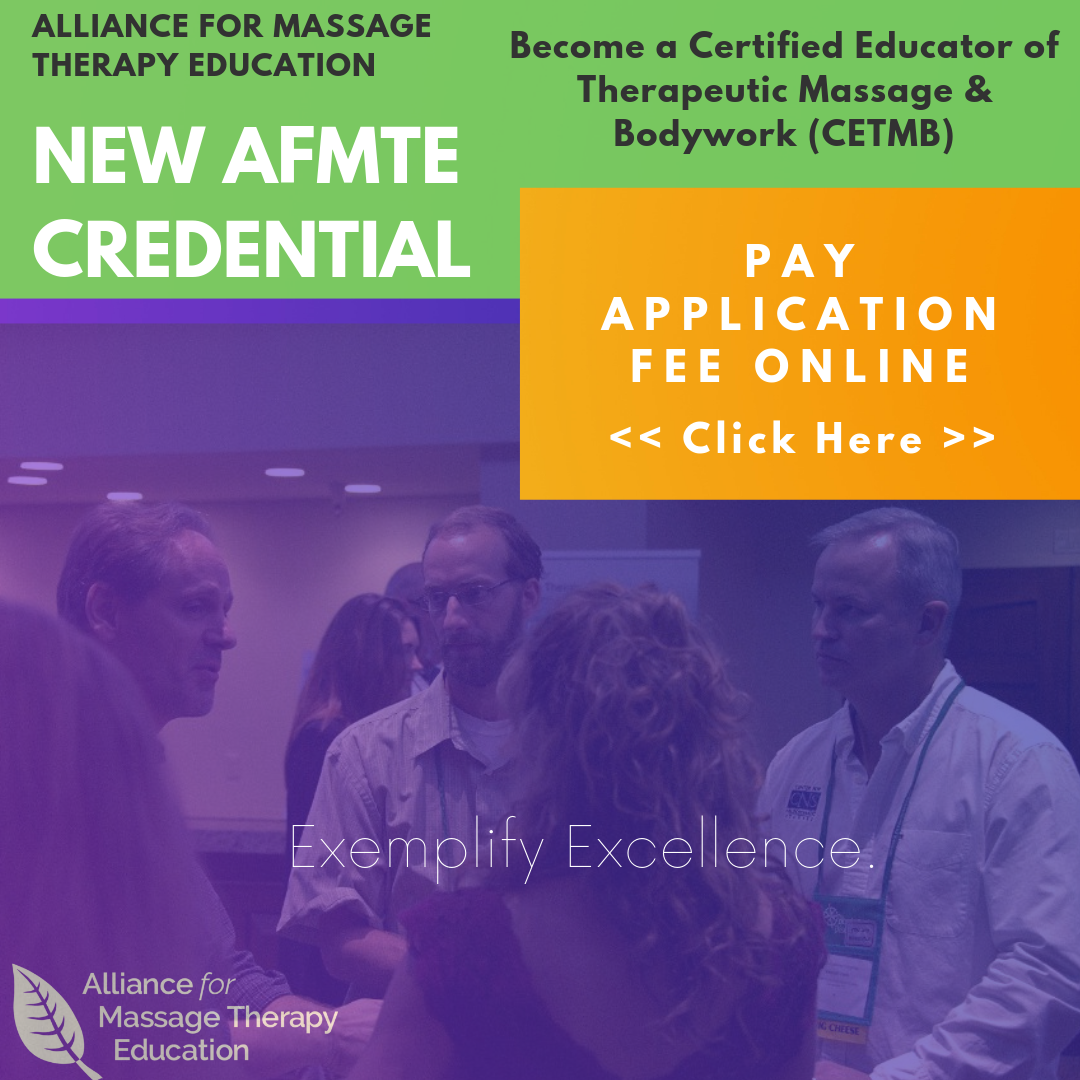 APPLY FOR CERTIFICATION
Costs
$249 Application and Portfolio Review Fee (non-members)
$199 Application and Portfolio Review Fee (members)