NEWS RELEASE  

For information contact:
Pete Whitridge, President
[email protected]
September 3, 2013 –
For Immediate Release
The Alliance Deems Complete Collaborative Support at 2013 Conference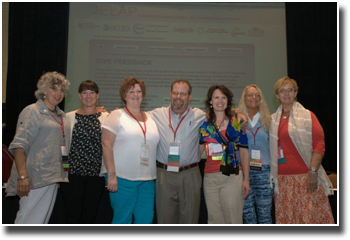 At few conferences do educators have access to every educational organization quite like they did at this year's Alliance for Massage Therapy Education Conference. Ruth Werner, President of the Massage Therapy Foundation, Anne Williams, Director of Education for ABMP, Karen Armstrong, VP of the FSMTB, Kate Zulaski, Executive Director of COMTA, Sue Toscano, Chair of the NCBTMB, and Winona Bontrager, President of AMTA  participated in a panel discussion and answered questions from attendees.

From the beginning, the Alliance's mission has been to serve as an independent voice, advocate and resource for the entire education sector – from entry-level massage training programs through post-graduate studies.  The Alliance provides that common ground where all can have a seat at the table and share the common goal of raising the standard of Massage Therapy Education.

The Alliance is the only organization that brings Schools,Teachers, Continuing Education Providers and Allied Members together under one roof…and come together they did! This year the Alliance hosted their most well- attended conference to date!  This year was by far the largest of all educational conferences with over 130 attendees and 22 exhibitors.

Even bigger were some of the topics for discussions including our responsibilities as a profession to participate in the Affordable Care Act,  as introduced by one of the Keynote Speakers, Janet Khan, MD.

Other discussion topics included how to best inform the education community about the Core Competencies and brainstorming ideas on how to make them more user friendly and palpable learning modules.

Whitney Lowe's insightful keynote address on how to motivate today's students generated many conversations with attendees. Technology was a key topic for them thanks to Whitney's presentation that introduced many to new teaching concepts such as the Flipped Classroom, MOOCs and the concept of badges as part of the credentialing process.

It was apparent that many liked the concept of badges. A common idea generated in all the different small group discussions on how to take the National Teacher Education Standards Project (NTESP) to the next level was the sum total of a number of badges leading to a certification or diploma. This type of feedback was exactly what the National Teacher Training Curriculum Development Committee had hoped to achieve at the conference.
The Alliance re-elected Stephanie Beck to the board as well as elected two new board members Gloria Lawrence and Eric Polgar. The Alliance held elections for the leadership Development Committee and Lisa Parenteau was a new electee.

Over seven hundred dollars was raised for the Massage Therapy Foundation. Seated massage was coordinated by the Massage Envy St. Louis Regional Director during the Thursday evening Opening Reception co-sponsored by Performance Health/Biofreeze and Massage Envy.

David Lauterstien and Elaine Stillerman were awarded the AFMTE, Biofreeze, Bon Vital Educator of the Year Awards.

A complete 2013 Conference library of photo albums is available here:  AFMTE 2013 4th Annual Conference Photo Albums  you can sure to share your favorites with your friends and customers.

Overwhelming feedback from a variety of school owners, educators, continuing education providers, exhibitors and organizations created an opportunity for a 2015 Educational Congress, a single gathering of the various groups who are committed to excellence in massage education. Many expressed the convenience of having one educational conference. The economic benefits of having to make travel arrangements for only one conference as opposed to multiple events would enable many companies and organizations to offer a level of support they would like to provide but just are not able to do now. So the Alliance is excited to announce they will be forgoing a 2014 conference in hopes that in 2015 we will be able to have an Educational Congress with all Educational Organizations.

In summary, we feel it was one of the most successful conferences yet.  It was very rewarding to have feedback from Continuing Education Providers, School owners and teachers that are currently implementing the Core Competencies. We also received tremendous feedback from attendees on how to move the Core Competencies forward. We believe we surpassed our goal for creating a culture of teaching excellence by creating a core of collaboration and unity from all organizations. It was great to have all sectors represented and coming together at the table to discuss and share with a common goal.
###