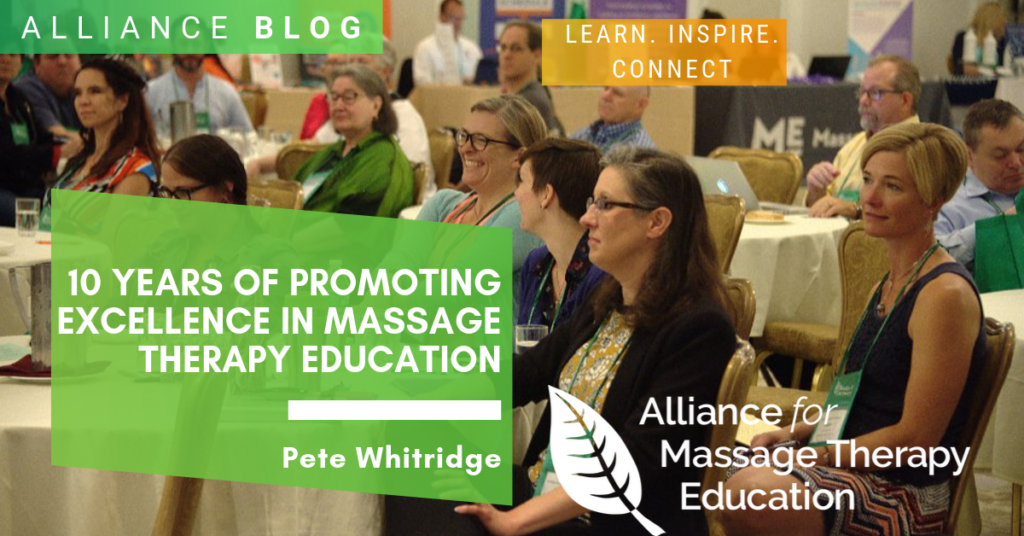 This month the Alliance For Massage Therapy Education (AFMTE) celebrates its ten-year anniversary!
When the Alliance was founded in 2009, massage and bodywork educators from across the nation—and even the globe—were galvanized by the aspiration of strengthening the skills of massage educators in order to improve massage and bodywork education—and the profession—as a whole.
The main focus of AFMTE has been to create and implement effective and exemplary educational standards for massage education and to support therapeutic massage and bodywork educators in delivering exceptional education.
During the past decade, the AFMTE has made huge strides in accomplishing its mission and attaining its vision.
The focus of the AFMTE is teacher training and professional development for therapists and educators.
The Journey, So Far…
Key milestones that occurred during my Presidential term from 2009-2015 to help improve therapeutic massage and bodywork education, including:

Since 2015, the AFMTE has made a momentus stride by way of releasing its Educator Certification Program, which offers a new credential, Certified Educator of Therapeutic Massage & Bodywork.

Where We Are Going
As I reflect on the past ten years and think about the next, I come back to an original question that has sparked my own involvement in the AFMTE, both as a Past President and as a Committee Chair for the Teacher Resource Directory Committee.
My question is: How will we replace our great instructors when they retire?
Teachers in the classroom are getting older; there are many more schools and programs being taught by underdeveloped educators.
With over 700 massage schools in the country and over 1500 CE Providers, we estimate there are roughly 10,000 teachers of massage and bodywork therapies at all levels.
New instructors still yearn for adequate training, skills, support, and mentorship.
Experienced instructors need to continuously strengthen their skills with professional development courses and continuing education that helps develop skills to teach different generations as they enter the classroom.
All educators must be able to soundly ask themselves: how do I know I am effectively employing the very best of practices in my massage classroom?
Since we are not born with the skills, we must be taught, trained, evaluated, and practice the art of teaching.
Currently, there is no mandatory mechanism in our field to train, evaluate, and certify teachers at any level.
So the AFMTE has undertaken a long-range project to identify the National Teacher Education Standard Project (NTESP), with an overall goal of creating a culture of teaching excellence.
The AFMTE's Educator Certification Program is currently a voluntary credential for Educators who wish to demonstrate their knowledge of best practices in therapeutic massage and bodywork education.
This credential is moving the AFMTE toward its vision of a credentialed instructor in every classroom.
I encourage schools and educators to utilize the "Core Competencies for Massage Therapy Teachers" to determine whether an instructor is qualified to teach. The AFMTE's Assessment Guide is also a helpful tool to evaluate if you meet the standards of the AFMTE Core Competencies.
And, if you think you do, I encourage you to take the next step: learn about the Portfolio pathway to apply, review the AFMTE CETMB Application Checklist, and help exemplify excellence in massage by applying to become a CETMB!
---
About the Author: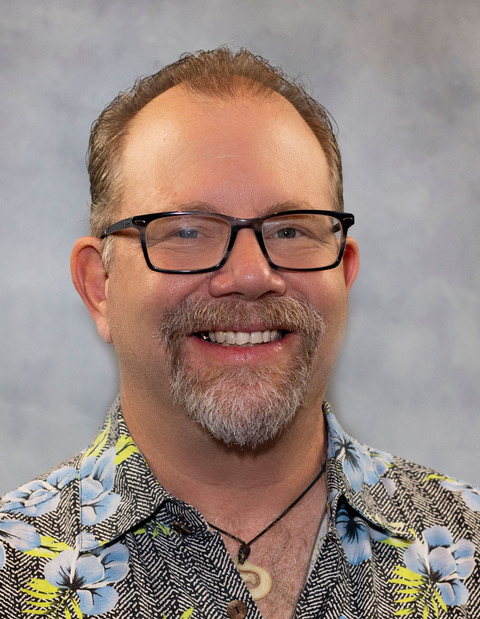 Pete is a continuing education provider and former faculty member and Director of Education for the Florida School of Massage in Gainesville, FL; past chairman of the Florida Board of Massage Therapy, and past legislative chair for the Florida State Massage Therapy Association.
He holds a Bachelor's degrees in history and political science from the University of Colorado.
Pete is a Florida Licensed Massage Therapist, and is an NCBTMB Approved CE Provider, based in Fort Pierce, FL. Pete is also former president of the AFMTE and is currently serving as a volunteer for the Teacher Resource Development Committee.  
---